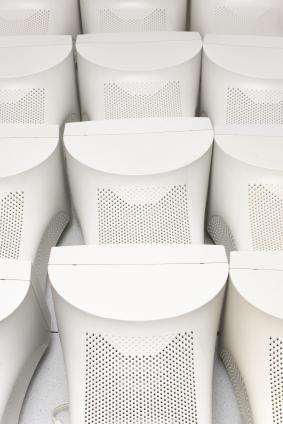 Best Buy employment applications are completed either online or in person at a local store. Best Buy employs over 140,000 individuals at retail stores nationwide and in the corporate office in Richfield, Minnesota. The company's job website contains information about the company's employment practices, benefits, corporate culture, community relations and diversity programs.
Types of Best Buy Employment
Best Buy corporate job positions include those in the fields of accounting, marketing, secretarial support, human resources, legal and communications. The company's retail website is designed, operated and maintained at corporate headquarters. Staffing for the website is completed through the corporate employment page.
Retail jobs include customer service, cashiers, salespersons and managerial positions. Employees for the company's Geek Squad, which services and installs computer and television equipment in customers' homes and in retail stores, are also hired through the retail website online application. Mobile sales jobs, which include selling portable telephones and accessories, are likewise applied for through the retail website.
The company hires entry level or experienced individuals for full and part-time positions. It also offers paid internships to MBA students concentrating in accounting and finance. These paid internships last 10 to 12 weeks and are conducted at the company's corporate headquarters.
Application for Employment
Searching for Current Openings
The company's job website allows users to search for job openings at the corporate office and retail stores. An interactive map provides the number of current Best Buy employment opportunities in each state. On this map, open jobs are narrowed first by state, then by city and finally by job title. Users can also search for positions by first selecting their desired job location, retail store or corporate headquarters. Available positions are then listed by field, such as loss prevention or sales, and then by job title.
Reviewing a Position's Duties
Selecting a listed job takes users to that job's description page. The opening paragraph of each job description contains general information about the position's duties. The page also provides bullet lists of the position's key responsibilities, basic qualifications and preferred qualifications. At the bottom of each page is the job code number, which must be included in an application to identify the job you are applying for.
Completing the Application
A blue "Apply Now" button at the top of each page begins the application process. Pressing this button takes users to the first step in the application process, which is creating an account. Users must first provide their general contact information, including their name, phone number and current job title, and create a password. The page also offers users the option to create a search agent which will periodically search the site and notify the user of any newly posted open positions.
After creating an account, users provide the website with either their zip code or state. This information generates a list of local, currently hiring stores. After selecting a store, users apply online for the listed position. The first step of the application requires providing a social security number so the company can verify that an applicant is eligible to work in the U.S. The remainder of the application consists of information about the applicant's education and experience. Once completed, the application is submitted online.
There is no limit to the number of jobs an applicant can apply for, and the same account and resume can be repeatedly used for each separate application. Applicants are only contacted if the company would like to schedule an interview.
Full-Time Employee Benefits
Best Buy offers all full-time employees medical, dental and vision health benefits, as well as life and disability insurance. Health savings accounts permit employees to set pre-tax dollars aside to pay for insurance premiums or medical care. Employees can participate in the company's 401(k) program or invest in the company through a stock purchase option. Additional benefits include an employee discount on Best Buy products, a tuition assistance program, language instruction and even adoption assistance. The corporate campus contains a fitness center, daycare, health clinic, cafe and bank for employee use.
Finding Your Next Job
Best Buy makes it easy to search for and apply for jobs. The variety and number of currently available positions makes it likely that many job seekers will find one or more opportunities appealing.