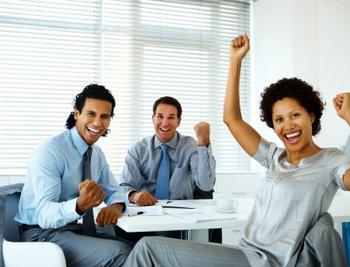 One person's list of fun careers could epitomize another person's perception of a life of drudgery. Generally speaking, fun careers involve interaction with other people, a challenge and the opportunity to gain and use knowledge. Some of the most fun careers involve unconventional roles, but that doesn't mean you can't have a fabulous time walking the beaten path and seeking out well-established career choices.
A List of Fun Careers
Your list of fun careers will vary based on your strengths and weaknesses, what you enjoy and the type of schedule you would prefer. Understand that what's fun may not pay as much as you'd like, and it could take a while to transition from your boring "day job" to the hobby you hope to turn into a career.
Nonprofit positions: You can work for a cause you truly believe in as a fun and rewarding career in nonprofit organizations.
Personal shopper or buyer: If you enjoy buying gifts, going on hunts for the perfect item or feel like you could live at the mall, you may enjoy being a personal shopper or buyer.
Nanny: If you love kids but loathe the idea of being a part-time babysitter, you might enjoy nannying. You can often negotiate pay and vacation days just as you would with any other career-and you can rely on the work being generally steady.
Zookeeper: If you're happiest working with animals, consider a career in zookeeping. There's more to it than cleaning cages, tossing in food and cozying up to the animals, though, so be sure to do your research before you commit.
Dog groomer or walker: Do you want a job where you get to hang out with your best friends all day? Taking care of others' dogs all day will allow you to do just that. You can even add house-sitting to your list of offerings for families that travel often and can't take their dogs.
Nail tech: If you love chatting with lots of different people while doing detailed work, consider becoming a nail tech.
Hairstylist: If you'd prefer to work on hair instead of nails, you can still enjoy making others look and feel good while chatting away.
Sales: Working in sales means you're faced with a fun challenge every time you start a conversation. You'll have the opportunity to meet new people every day, build rapport and business relationships all while working to meet sales goals. Sometimes you'll even engage in friendly competitions with your co-workers.
Professional organizer: Plenty of people could use a little help organizing their homes. Whether they just moved in, had a major life change that led to the dishevelment of their home, or they never knew how to get organized to begin with. If you enjoy putting things in their appropriate places, you could find your niche being a professional organizer.
Business owner: Taking your passion and turning it into a business can be rewarding and fun.
Taste tester or food critic: If you love to eat or try new foods and restaurants, what's not to love?
Scientist: Is the pursuit of knowledge your passion? Becoming a scientist in the field you enjoy most could lead to one of the most fun careers. If working with the public doesn't sound like fun at all, you'll love spending hours in the lab.
Bartender: If you abhor the thought of being at work at 8:00 in the morning and you'd prefer to work later shifts in a fast-paced environment surrounded by people, consider becoming a bartender.
Personal trainer: If you love working out, personal training can keep you active and out of a cubicle. You'll help others get healthy and fit while monitoring their success.
Other Fun Careers
Advertising professional
Public relations representative
Writer
Engineer
Art or music therapist
Designer (graphic, interior, fashion, jewelry, etc)
Artist
Chef/baker
Motivational speaker:
Performer (acting, singing, etc)
Florist
Midwife
Event planner
Lawyer
Producer/director
Personal finance advisor
Tour guide
Instructor
Work Can Be Fun
Even if your job of choice isn't on the list of fun careers, use it as a springboard to come up with the best fun career based on your interests, passions, and lifestyle. Look for a career that works well with your strengths while offering enough challenges to keep you motivated while at work. Turning something you love to do into a paycheck can give your working hours a true sense of purpose.